Recently, I found out about SBI Cashback credit card and found its features and benefits quite simple. In this post, let us review the product features and how it fares against two popular cashback credit cards. Amazon Pay ICICI Credit Card and Flipkart Axis Bank Credit card.
Major Benefits and Features of SBI Cashback Card
5% cashback on all online purchases. Cashback is not limited to any merchant.
1% cashback on all offline transactions.
1% fuel surcharge waiver across petrol pumps in India. For fuel purchase ranging from Rs 500 to Rs 3,000.
Joining fee of Rs 999. Annual renewal fee of Rs 999. The renewal fee is reversed if your annual expense on the card exceeds Rs 2 lacs.
There are a few transaction categories that are not eligible for cashbacks. We will discuss alter in the post.
Why Do I Prefer Cashbacks and Discounts?
I am not very fond of reward points, air miles, airport lounge access, or complimentary hotel stays. This is because of my expense and travel patterns. I am never clear about what reward points translate to and when and where I can use them.
Cashbacks can be confusing too but if the cashback structure is transparent and is without too many conditions, you can calculate benefits objectively. When I am sure that I will get the 5% in cashback, I can mentally factor in a discount of 5% on the purchase.
How Is the Cashback Awarded in SBI Cashback Card?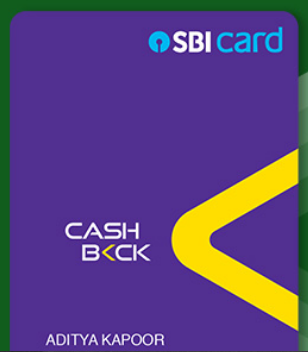 The cashback gets added to your SBI card account within 2 days of generation of statement. The cashback amount never expires. A caveat here. The cashback is capped at Rs 5,000 per month. Even if you spend more, you will not earn more cashback.
While Rs 5,000 is not a small amount and you will have to spend at least Rs 1 lac to hit this monthly cap, this cap does exist. If you need to buy quite a few expensive items in the same month, then you may not get cashback for all your purchases.
There is no cap on cashback for Amazon Pay ICICI Bank credit card and Flipkart Axis Bank Credit card.
Which Transactions Are Not Eligible for Cashback?
Cashback is not applicable to:
Balance Transfer
Fuel purchase (but you get surcharge waiver)
Cash advances
EMI Purchases
ATM Withdrawals
E-wallet loading
Utility payments
Insurance payments
Rent payment
School fee
Jewellery purchase
Railway tickets
Card, Gift, Novelty, Souvenir shop transactions
The bank identifies these transactions based on the Merchant Category Code (MCC). MCC is defined by card networks (Visa, Mastercard, Rupay). You can find the complete list of exclusions on SBI cards website.
How Is This Card Different from Other Prominent Cashback Cards?
The cashback structure of SBI Cashback seems quite transparent. I like simplicity.
When I found out about the card, my mind quickly went to two similar and extremely popular cards. ICICI Bank Amazon Pay Credit and Flipkart Axis Bank credit card. In these cards too, the cashback structure is quite transparent.
With ICICI Bank Amazon Pay credit card, 5% cashback is available to only prime members for purchases only on Amazon App and website. If you are not a prime member, you get only 3% cashback.
Similar restrictions on Flipkart Axis bank credit card where 5% cashback is only for purchases on Flipkart, Myntra, and other group websites.
Hence, if you shop on both Amazon and Flipkart, you will have to own both cards if you want 5% cashback.
Now, if you own SBI Cashback card, you could earn 5% cashback on both Amazon and Flipkart. Not only that, for any online merchant — Zomato, Swiggy, Uber, Ola, Firstcry or any other online merchant. At first glance, this SBI Cashback card looks superior to Amazon Pay ICICI Bank and Flipkart Axis Bank Credit cards.
Cashback Rules
SBI Cashback Credit Card
ICICI Bank Amazon Pay Credit Card
Flipkart Axis Bank Credit Card
Online purchases
5% on all online purchases
For Prime members: 5% on purchase on Amazon app/website.
3% for non-prime members.
2% for bill payments, travel bookings, movies on Amazon
1% on all other online purchases
5% cashback on Flipkart and Myntra
4% cashback on partner sites (Swiggy, Uber, PVR, Curefit, Tata Sky)
1.5% cashback on all other merchants
Offline purchases
1%
1%
1.50%
Utility payment
No Cashback
2%
No Cashback
Fuel purchase
1% surcharge waiver
Cap on cashback
Rs 5,000 per month
Unlimited
Unlimited
*None of the above cards provide cashback on EMI transactions or purchases converted to EMIs. For the detailed exclusion list, please refer to card terms and conditions. The cashback terms and conditions and the eligible partners can be revised by the bank at any time. Even the cashback percentages can be modified.
In my opinion, SBI Cashback Credit card is a decent offering. Simple and objective. The best aspect is that it offers 5% cashback on all online merchants. Amazon Pay and Flipkart credit cards offer 5% only on their group/partner websites. SBI Cashback wins here. However, there is a cap of Rs 5,000 on monthly cashback amounts and there is also no cashback on utility payments, railway ticket bookings etc.
Look at your expense patterns before deciding which product is better for you. If you already own one of these credit cards, do not jump to apply for another card just to optimize cashbacks. Managing multiple credit cards is also a bit of a pain. You might also end up spending more.
While I highlight the good features of a credit card product, I do not mean credit cards are a virtue. Cashbacks and discounts are all good but if you are not a responsible borrower and struggle to pay your card bills on time, you will soon find yourself in serious financial trouble.
Disclaimer: I do not own SBI Cashback credit card. All financial products have fine print which can completely change the nature of products. If you are planning to apply for this credit card, suggest you read the terms and conditions, especially exclusions for cashback.