The Reserve Bank of India (RBI) raised its repo rate – rate at which it lends to banks – and reverse repo rate – the rate it pays to banks for deposits – by a quarter of a percentage point to 8.25% and 7.25% respectively. With today's rate hike, RBI has raised interest rates 12 times in 18 months by a total of 350 basis points, the fastest round of increases in RBI's 76-year history.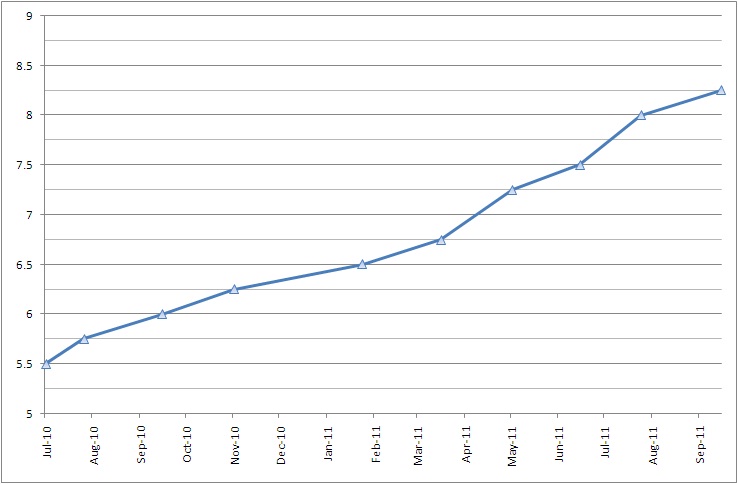 Let's look at some hard numbers to make sense of the overall situation:
Interest rates have risen 3.5% since March 2010
Inflation has been near 10 percent for several months and is currently at 13-month high of 9.78 percent
Fuel prices have been hiked 10 times since June 2010 after Govt. gave up battling the market forces with artificial price controls on oil retailers
India's GDP declined to 7.7 percent in the April-June period, the slowest in 6 quarters
Industrial output slumped to 3.3 percent in July, the slowest in 21 months
Indian Rupee is at a 2-year low against US dollar
What does this mean to the common man?
On the flip side, loan rates, and consequently EMIs, are bound to increase when the banks in turn pass the rate hike burden to their customers. Along with ever increasing fuel prices and high inflation (especially food inflation), this would aggravate the financial burden of the common man. Weakening Indian Rupee could also mean further increase in fuel prices. It will test the ability of the borrower to meet his monthly financial commitments including loan EMIs. Borrowers with floating rate loans will feel the pinch of higher EMI payments in the short term. Slowing economy may impact job market and reduce growth prospects.
On the positive side, deposit rates are likely to increase. If you have some savings, then higher yield should excite you. Its also a good time to look for bargains in the stock market. If you are sitting on a pile of cash, it may be a good time to buy a home as prices come down. Also, the general consensus is that the interest rates are peaking and would stabilize or decline soon. If this indeed turns out to be a short term measure to contain inflation, then the common man should emerge stronger for the experience.