Online shopping is getting increasingly popular these days. There is convenience, variety and yes, discounts. Moreover, these online retailers keep running offers on various credit cards. As a buyer, even if you don't like to use credit cards, you wouldn't want to let go of easy discounts or the No-cost EMI option. Despite your dislike, if you had one, you could have easily availed 10% discount and transfer the money from your bank account to the credit card account immediately to extinguish the liability on your credit card. Quick savings.
Now, getting a credit card is not really that easy. If you are salaried, getting a card is relatively easier. There is nothing that the banks love more than your income stability. By the way, it does not mean that you can walk into a bank branch and get a credit card. The banks look at various parameters including your income, existing credit and credit score before approving your application. Even your employer matters. Everything else being same, a government employee gets easier access to credit as compared to a private company employee. If you do not have a job, it is even more of an uphill task. Why? From the bank's perspective, they need comfort that their loan will be repaid. Your salary gives them that comfort. If you don't have stable cashflows (that a salaried person has), the banks don't get that comfort. Therefore, you need to explore ways through which the banks can trust your repayment ability.
How Can You Make the Banks Comfortable with Your Repayment Ability?
There are three possible ways.
Demonstrate that you have cashflows, despite not having a salaried job

Offer them a security that they can easily liquidate and recover if you don't pay.

Make someone else responsible for your card repayment (and that person has the repayment ability)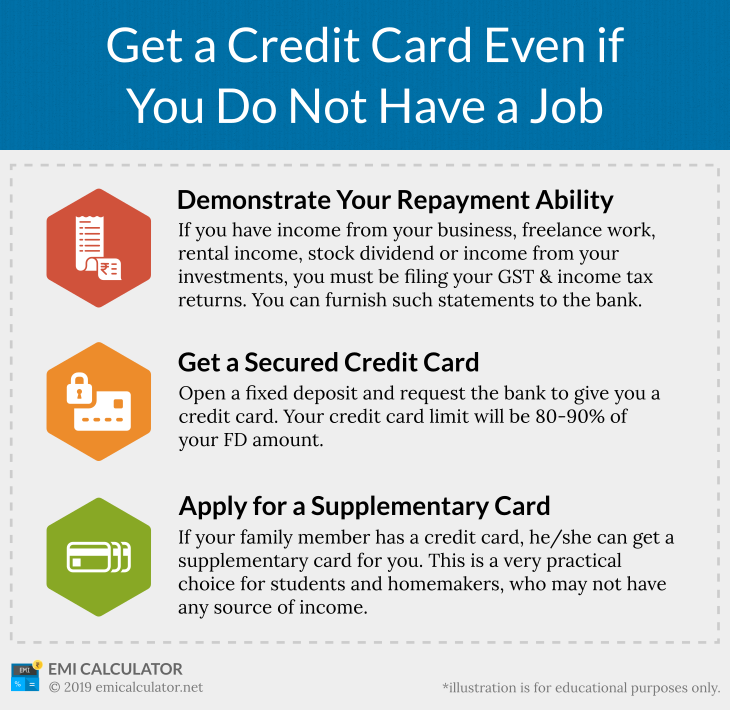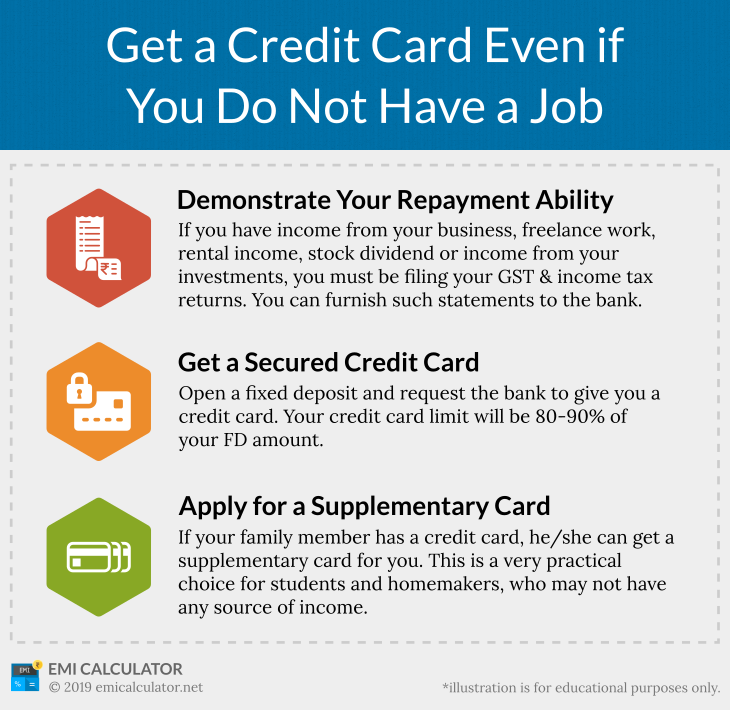 Let's consider the examples of the above 3 approaches.
#1 Demonstrate your repayment ability. If you are self-employed, you will have cashflows. Or you may have income from your business, freelance work, rental income, stock dividend or income from your investments. You must be filing information about such income in your income tax returns. You can furnish such statements to the bank. If you can demonstrate your payment ability through your income tax returns or GST returns, you may stand a chance to get a credit card. Through ITR or other financial statements, you may be able to justify your repayment ability.
#2 Get a secured credit card. This is the simplest option provided you have money to spare. Open a fixed deposit and request the bank to give you a credit card. Most banks will give you a credit card against a fixed deposit. Your credit card limit will be 80-90% of your FD amount. The bank will mark a lien on your fixed deposit and you cannot break it until you close the credit card account. Now that the bank has a very liquid security that it can liquidate if you don't pay, it does not worry much about your income. It draws comfort from your fixed deposit. Since the reliance is on the fixed deposits, the bank will liquidate the fixed deposit if the card outstanding breaches 95-100% of your fixed deposit. For more on credit card against bank fixed deposits, refer to this post.
#3 Apply for a supplementary card. If your family member has a credit card, he/she can get a supplementary card for you. This is a very practical choice for students and homemakers, who may not have any source of income. The primary card holder has to apply for a supplementary card. The parents can do it for their kids, or you can apply for a supplementary card for your spouse.
From the bank's perspective, they need to assess primary card holder's repayment ability. Your repayment ability matters little. Do note that the total credit limit does not change after issuance of the secondary or the add-on card. The credit limit is shared between the primary card holder and the secondary card holders. The expenses on the supplementary cards get clubbed with the statement of the primary card holder. Therefore, the primary card holder is responsible for making payments on the card.
Use Your Credit Card Responsibly
Even though I have written about how you can get a credit card without having a job, the basic tenets of responsible credit do not change. I work under the assumption that you will spend responsibly, and the dues will be paid in time. Getting the credit card can't be the end. You must be able to repay the dues too. You must not misuse your enhanced spending prowess. If the idea behind getting a credit card was to get some discounts, reckless spending will defeat that purpose.
You may be able to get a credit card against a fixed deposit. However, you can't break that fixed deposit to pay off your dues. If the bank breaks your fixed deposit, your credit card is gone too. So, you need to have some cashflows to settle the outstanding amount on your card. Therefore, you need discipline with your credit card spends.
By the way, I have narrowed the need of a credit card to discount on retailer website. Ownership of a credit card and responsible usage has an additional important benefit. It helps you build your credit score, which can be useful if you want to take a loan in the future. Irresponsible spending can put that in jeopardy too.