You need quick funds. You do not want to break your head to optimise your selection. Usually, in such cases, you approach your bank and see if it can give you a quick loan. In this post, let's review a loan that is instantly available if you own a HDFC Bank credit card. By the way, most banks have similar products. You can explore such products on your bank website too.
HDFC Bank Insta Jumbo Loan: Eligibility and Important Features
The loan is available to only select HDFC Credit Card customers. It is a pre-approved loan. Therefore, once you apply, the money will be credited to your account instantly (or so the HDFC Bank website claims). No documentation is needed. You can choose the repayment tenure between 12 to 60 months. The loan amount will not be blocked from your credit card limit. Processing fee of up to Rs 999 (exclusive of GST) is charged.
The loan comes with a loan protection cover.  When you take the loan, the bank gives you an accidental death insurance policy for the loan amount. If the borrower passes away in an accident (natural death is not covered). The amount will be used to square off the loan and any excess will be given to the borrower's family. As per terms and conditions on the bank website, this cover is without any cost to the borrower. If you prepay the loan, the insurance cover will automatically lapse.
Partial pre-payment or partial closure is not permitted on this loan. However, if you wish, you can pre-pay the loan in full. The pre-payment will attract penalty at the rate of 3% of the balance outstanding. With 18% GST, the effective penalty is 3.54% of the outstanding balance.
What Is the Interest Rate on This Loan?
Though the details are not mentioned on the website, do not expect it to be very low. I copy an illustration from the loan page on HDFC Bank website.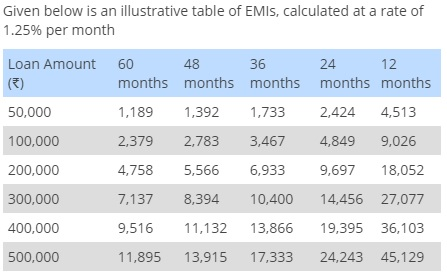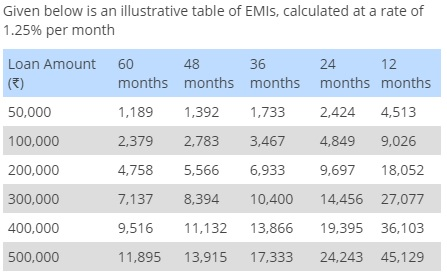 The above illustration is for a reducing balance loan. 1.25% per month is 15% per annum. You can expect actual to be given out a much higher rate of interest.
A friend reached out to HDFC Bank for this Insta Loan. The bank quoted a FLAT interest rate of 0.83% per month. Smart marketing, isn't it? For a 12-month loan, 0.83% per month in a flat interest rate loan is equivalent of 1.5% per month in a reducing balance loan. 1.5% per month is 18% per annum. A Rs 5 lacs loan for 12 months at 0.83% per month flat interest rate will cost you Rs 45,816 per month. The financial institutions usually play such tricks for short term. It is fine as long as you can see through such things. For more on difference between a Reducing Balance loan and a Flat Interest Rate Loan, refer to this post.
Even though the loan comes by virtue of your holding a HDFC bank credit card account, the EMIs are not charged to the credit card. The EMIs are debited from your HDFC savings bank account. Auto-debit will be activated for debit of EMIs. Strangely though, the first EMI date will be the next payment due date on your credit card. Thereafter, the EMI date will coincide with your credit card due date. If you default on your EMI payment (if auto-debit fails due to insufficient balance), penal interest at the rate of 2% on the payment amount subject to a minimum of Rs 300 shall be charged.
What If I Do Not Have HDFC Bank Savings Account?
In that case, it ceases to an Instant Loan. The bank will release the loan proceeds through a demand draft. You can deposit the draft in any bank account. A separate loan account number is generated (happens for those who have HDFC Bank savings bank account too) and you must transfer the amount to this account on or before due dates.
If you default on your loan EMI, your credit card shall be suspended, and you won't be able to use it further until you regularize your account. In additional, the penal interest of 2% (minimum 300) shall be charged. If you close your HDFC credit card account before paying off the loan, the loan outstanding, along with pre-closure charges, will be debited from your bank account.
How Is HDFC Bank Insta Jumbo Loan Different from a Regular Personal Loan?
There is no difference. HDFC Bank Insta Jumbo loan is a personal loan. The only difference is that it is available to select HDFC Bank Credit Card holders. And that the loan amount is credited instantly. However, this instant loan credit comes at a higher cost. My friend was offered 18% p.a. (0.83% per month flat interest rate for 12 months) in Mar-2020. You should be able to get a personal loan at a much lower interest rate, if you have a good credit profile. Therefore, unless you have cornered yourself by leaving it for too late, you might want to consider a personal loan from your bank before applying for this Insta Jumbo loan.
Source