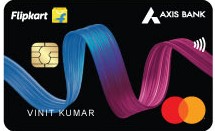 A few weeks back, I had written about Amazon Pay ICICI Bank credit card. Simple and easy benefits. You get 1-5% cashback on each spend and the rewards system is so simple. The cashback/reward for the previous month is credited to your Amazon account on the statement date.
What about Flipkart? Does Flipkart offer something similar? Naïve to believe that Flipkart won't have a similar co-branded credit card. Flipkart has a co-branded credit card with Axis Bank that offers benefits quite similar to Amazon Pay ICICI Bank credit card. Let us find out more about the card.
Flipkart Axis Bank Credit Card: Key Benefits
5% cashback for spends on Flipkart. As I see, there is no difference between regular buyers and Flipkart Plus members. Everybody gets the same benefit. In case of Amazon Pay ICICI Bank credit card, Prime members get 5% cashback and non-prime members get 3% cashback.
5% cashback for spends on Myntra. This is interesting. It is not just Flipkart. If you use Myntra app for purchasing fashion, lifestyle and apparel, you get sweet cashback.
4% cashback for spends on preferred merchants (Swiggy, Uber, PVR, Curefit, Tata Sky). A good deal if you use apps/platforms.
1.5% cashback for spends on all other merchants (Amazon Pay ICICI card offers 1% cashback).
Unlimited cashback: There is NO absolute monthly upper cap on cashbacks.
Four complimentary domestic lounge access visits (limited to one per calendar quarter).
1% Fuel surcharge waiver up to Rs 500 per month.
Minor joining benefits.
There is no mention of the No-cost EMI facility. With Amazon Pay ICICI Bank credit card, this facility is available throughout the year.
However, the following expenses on the card will not be eligible for cashbacks.
Fuel Spends
Purchase of gift cards on Flipkart, Myntra platforms
EMI transactions
Purchases converted to EMI
Wallet loading transactions
Purchase of gold items
Cash advances
Payment of outstanding balances
Payment of card fees and other card charges
How Is Cashback Given?
Simple. The cashback for each month will be credited to your Flipkart account at the end of the billing cycle. It will show up in your credit card statement too. You can use the cashback for purchases or payments on Flipkart app.
Amazon Pay ICICI Credit card also offers rewards in such a simple manner.
Eligibility Criteria, Annual Fee and Application Process
What Is the Eligibility Criteria?
If you are a salaried employee, you must have a monthly income of Rs 15,000 or more OR
If you are a professional or run a business, you must have a monthly income of Rs 30,000 or more.
Is there an Annual Fee?
I am a bit confused about the annual fee. On the Axis Bank website, the joining fee is mentioned to be Rs 500. Additionally, there is an annual fee of Rs 500, which is waived off if you spend more than Rs 2 lacs in the previous year.
On the Flipkart website, there is lifetime free offer going on. However, when I logged in, it still showed "Coming soon". I do not shop much on Flipkart. It is possible that the lifetime free offer is available only to select customers.
How to Apply?
You can apply through the Flipkart or Axis bank app/website. For eligible customers, I would expect the process to be quite smooth. The card generation is instant, and you will receive the physical card within a couple of weeks.
Is the Flipkart Axis Bank Credit Card Good for You?
The choice is simple. If you shop on Flipkart or Myntra, you can use this card for neat savings. However, greater cashback does not mean that you can spend unnecessarily. Additionally, too many credit cards can compromise discipline. If you don't shop on these apps/websites, this card may not be as useful.
Amazon Pay ICICI Bank Credit Card v/s Flipkart Axis Bank Credit
This is not a right comparison. It all depends on your shopping pattern. If you shop extensively on Amazon, Amazon Pay ICICI Bank credit card is a better choice. On the other hand, if you shop more on Flipkart or Myntra (or on those app where this card offers good cashback), Flipkart Axis Bank credit card is the winner.
You can even apply for both but the usual problems with managing multiple cards will crop up.
But I must say Flipkart Axis Bank credit card looks more loaded and comes with a wider range of benefits. For instance, Amazon card offers 1% cashback for regular spends. Flipkart card offers 1.5%. Then, Flipkart Axis bank card offers 4% cashback on specific apps. No such feature in Amazon Pay Card. There is no clear winner though. Amazon card offers a few benefits that the Flipkart card does not offer. The most prominent being, Amazon Pay ICICI Bank credit card offers round-the-year No-cost EMI facility for expenses over Rs 3,000. The Flipkart Axis Bank card does not.
Your choice should depend on your usage and shopping pattern.