Buying a property is not like buying onions and potatoes. Firstly, the financial outgo is huge and may be a lifetime investment for many. Secondly, all properties are  not the same. All apartments in a complex with same dimensions are also not the same! Your selection of a particular apartment in the same complex has to be well thought out. To give an extreme example, if you select an apartment situated near the DG set in the complex, you can imagine the noise and air pollution you have to undergo whenever there is a power failure. Unfortunately power failures are very frequent in India. Or for that matter if your apartment is situated in close proximity to the kids play area or the pool, you will be subjected to continuous cacophony of the kids and the parents! Some builders charge more for an apartment with same dimensions and specifications as other apartments in the complex for reasons such as view of the apartment complex garden or pool.
Money Matters
Most without or with black money need house mortgage loans to buy the property. First and foremost is the financial implications of buying an immovable property. As the outlay is huge and the liquidity is limited even for the fairly better off households, a loan is an ideal source of funding the acquisition of a property. Taking also into account the income tax rebates available, a housing loan is an attractive source of funding. Before venturing into buying a property, one should check out the maximum loan that one can hope to get and what is the maximum contribution that one can raise. This will be the budget within which a borrower needs to work. The maximum loan that one can raise is normally calculated as so many multiples of a person's gross annual income. For example one public sector bank gives maximum loan of 4 times the annual gross income. Banks also take into account any other regular income like property rentals as well as income of the spouse if he/she has a regular job or vocation. The spouse will be treated as a co-borrower. Quantum of loan is also based on the minimum net income a person will have, after paying the loan EMI. A combination of variable factors like rate of interest on the loan, the tenure and loan amount etc will determine the EMI. After deduction of EMI, a borrower should have sufficient surplus income to make a living. A prominent public sector bank insists on a minimum 25% net income after meeting all outgoes including statutory deductions like PF/IT etc. The financing institutions insist on a minimum contribution from borrower's side called as margin (or down payment). 100% financing is not done as per directions of  RBI and prudent risk management practiced globally. Normally it is minimum 20% of the property value and balance 80% will be funded by the financing institution by way of housing loan. This is also called as LVR (or LTV) or loan-to-value ratio. The minimum ratio prescribed by RBI is 80:20. (Editor's Note: NHB recently increased the LTV to 90% of the property for home loans from HFCs, provided that the increased limit is insured by a mortgage guarantee company). If the difference between  property value and loan eligibility is more than 20%, then borrower's contribution needs to be increased proportionately. Therefore, it is necessary to do a preliminary calculation before the borrower zeros in on a property to see whether one can afford it or not. When calculating project cost it is not only the basic price which is taken into account for loan purposes, but the cost of amenities, stamp duty and registration cost etc are also taken into account. Typically, an illustration of  the breakup of the apartment cost shall look like this:
Basic cost. This is price based on the super built-up area of the apartment and calculated at so much per square feet or square meter. The carpet area in an apartment is the actual area available for usage by the owner, built-up area takes into account the internal walls/partitions etc, and super built-up area takes into account built-up area plus the common areas, amenities like lifts etc. Normally super built-up area is 25% more than the built-up area.
Car parking. This is charged at a flat rate, and a necessary investment when every household has a private transport of some kind. This is charged at a flat rate. (Editor's Note: According to 2010 supreme court ruling, the builder isn't allowed to sell the parking lots to residents.)
Amenities. The charge is for common amenities like jogging track, rain water harvesting, water softener, gymnasium, clubhouse, swimming pool, children's playground , outdoor sports etc. The charge is at a flat rate.
Value added tax or VAT and service tax. This will depend on the basic cost of the apartment and levied on under-construction property.
Deposits for water and electricity. This will be at a uniform rate shared by all apartment owners.
Stamp duty and registration charges. This will depend on the basic cost of individual apartment.
Lump Sum deposit towards contribution to corpus of the apartment owners association. The outgo is generally linked to the super built-up area of the apartment.
Wardrobes, storage, additional fittings, modular kitchen, electric chimney etc are extra but essential items of expenditure to be budgeted for, along with furniture items.
Therefore, one needs to take into account all the above components when budgeting. Banks normally take into account full project cost when considering the loan application with some exceptions such as corpus deposit for home owners association etc.
The percentage of tax outgo in a purchase of an apartment can typically be as high as 10% of the total cost as per above breakup. The rates of tax which includes stamp duty etc and applicability of tax differs from state to state. Hence no illustrative example has been provided in this primer as it can be confusing and inaccurate. One needs to check this up independently based on which state or UT the property is located.
Choosing a Builder or Project
Once the cost break-up is arrived at, you will be able to estimate the value of the property and aggregate outlay of funds and quantum of own contribution. Once you have arrived at your budget, next will be the selection of a project within your budget and also selection of  the builder or promoter. A finished project will cost more than an under-construction project. A finished project factors in the appreciation in value and the interest cost during construction period.
The selected builder/developer should be someone with a several successful projects under his belt and considered reliable. Preferably the builder/promoter should be a member of an association like, for example, CREDAI, which has set certain minimum standards. Major banks have categorized builders based on several factors and category-one builders are the most reliable in delivering quality projects on time. Their projects may be a little more expensive but they fetch a premium even in the used property market. Getting finance from the lenders is also that much easier. Some banks have property search groups that have shortlisted properties after due diligence. One can go for such properties, as such a categorization is a stamp of approval from the lender on the integrity of the developer/builder and the property title is clear based on the title search made by the lending institution.
Location Location Location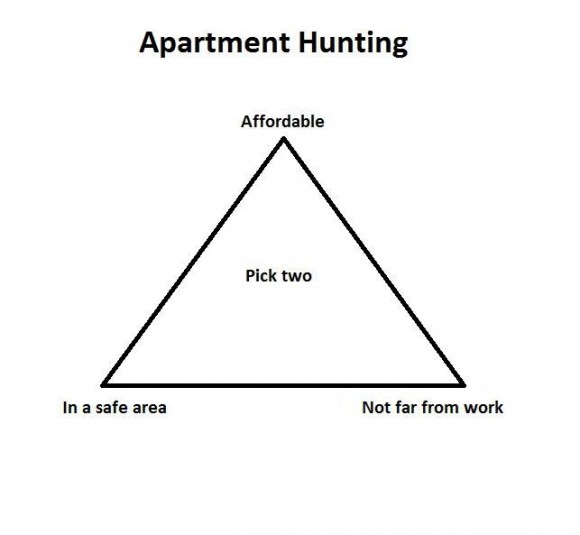 Another important aspect is the location of the property. A field visit with an eagle eye is required in selecting an appropriate project at a  location. Interaction with locals who are already residing there since sometime may also be needed. We have come across advertisements from builders/ developers which claim that the project is just a stone's throw away from, say, "CBD". On actual field visit it is found that the stone needs to be thrown by a Hercules to justify the claim! Ensure that the area is not a low lying area with a history of water logging etc. Ensure that the project is not coming up near open drains and sewage. Ensure that the project need not be reached with single access point of a railway crossing – manned or unmanned. Ensure that the project is not in close proximity to a well entrenched or developing slum. Ensure that the project is not very close to places of worship equipped with loudspeakers even when you are a devout individual but sensitive to noise pollution. Ensure that the property is not situated in close proximity to a polluting industry. Check around and find out the water supply situation and the ground water levels in the project locality. Check around and find out availability of shops and establishments in proximity to the project. If the project is in an isolated area and sparsely populated, it may be advisable to find out whether there is regular night patrol by the cops and street lighting exists. This is a precaution necessary to be taken in a newly developing area with poor infrastructure.
Property listings can be accessed through the print as well as TV media, property melas, internet, real estate agents etc. Real estate expo is a good medium as one can interact with the seller and get all their questions answered. Many developers/builders set up a model apartment to get a first hand feel of how the apartment would look like. But this can be be highly misleading sometimes on account of the jazzy furnishings, classy furniture and props used to impress the prospective buyer. Therefore model apartments needs to be viewed with some skepticism, unless you are offered a fully furnished apartment! Caveat emptor is the watchword; Once you have shelled out the money, if the decision is wrong, one can only regret lifelong.
Second part of this article: A Primer for First Time Apartment Buyers – Part Two