Why do you need a credit card number? I am NOT speaking about the credit card but about the credit card number printed on the card. The merchant clearly does not need it. All the information the merchant needs is encoded in the bar strip which is read by the swipe machine. Don't need the card number printed for tap and pay either.
What Information Does a Credit Card Have?
Credit card number
Name of the card holder
Validity
CVV
Any who holds your card has access to all the above information. Now, it is not easy to note down such information while you watch. However, with the use of technology (high resolution cameras), these details can be captured and potentially misused.
Now, in India, you can NOT complete offline/physical transactions without entering card PIN. And you cannot complete online transactions on domestic websites without entering OTP. Now, PIN and OTP are not printed on your credit card.
However, on foreign websites, there is no concept of 2-factor authentication. Your transactions will go through without entering any OTP.  Hence, there is enough information printed on your credit card that it can be misused.
A very simple way to prevent this is to disable international transactions (both physical and offline) if you are not planning to travel abroad soon or use your card on foreign websites.
In any case, why do we even need such information on a credit card? We know that the merchant does not need it. And does not care. Then, who needs this information?
Who Really Needs the Credit Card and Other Details Printed on the Card?
You. And only you. And the credit card number is mentioned there only for your convenience. So that if you want to transact online, you can pick up your card, enter the details, and you are done.
However, we live in an age when everyone owns a smartphone. I would believe, at least everyone who owns a credit card would own a smartphone.
If it is just the card holder who needs access to these details, such details can be stored in the mobile app of the bank. Think of virtual credit and debit cards. There is no physical card. You can still use such cards for your online transactions. There is no need to print these details on the credit card.
Why expose the card holder to unnecessary risk? Makes sense, right?
A Slight Digression
I remember the first time I used my debit card for a significant purchase (in those days, it was about 5K for me), the merchant verified my signature on the transaction slip with the signature at the back of the card. In fact, the banks used to ask customers to sign at the back of their cards to prevent card misuse. The hope was, if your card was stolen, the fraudsters may not be easily able to replicate your signature. If the merchant noticed the difference, it was a red flag for him/her. Hence, the signature at the back of the card was a sort of security feature.
No one does that anymore.
If you enter the card PIN right, you own the card. There is no deniability. The merchant does not care about the rest.
Either way, the credit card number printed on the card does not provide much benefit to anyone.
Axis Bank FIBE Credit Card: India's First Numberless Credit Card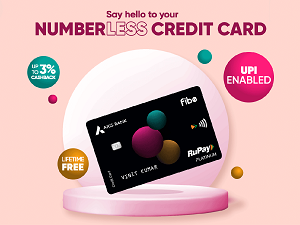 Finally, someone has noticed the futility of printing/embossing a credit card number on a physical card.
Axis Bank has launched a numberless credit card in partnership with a fintech company (Fibe). I think it is a smart choice.
A numberless credit card reduces the risk of identity theft, protects privacy, and acts as an additional security feature for the customers.
The Axis Fibe credit card is a Rupay card and hence can also be used for UPI payments to merchants.
The customers can access credit card information from the banking mobile app.
How Will You Transact Using Axis Bank FIBE Credit Card?
Nothing much changes for you. You can swipe at merchant terminals. Since it is a Rupay card, you can also link this card to a UPI app (Paytm, PhonePe, Gpay, or any other) and make UPI payments.
The only difference comes for online transactions. Instead of entering card details directly from the credit card, you will have to log into your bank mobile app and enter details from there. That's it.
What Are the Benefits of Axis Bank FIBE Credit Card?
3% cashback on food delivery across all the restaurant aggregators, ride hailing apps, and online ticketing platforms.
1% cashback on all online and offline transactions.
All the cards offer similar benefits these days. Nothing special in this card compared to what you would have seen from other credit card offerings you may have seen in the recent past.
A numberless credit card may have its charm, but this is not enough reason to own this credit card. You can expect other banks to follow suit and offer similar numberless credit cards. Its quite possible that your renewed credit card may not have the card number printed/embossed on the plastic.