Buy now pay later (BNPL) schemes have become quite popular over the past year. While prominent retailers like Amazon and Flipkart have their own BNPL schemes, there are fintech players such as Simpl and LazyPay that you can use to make purchases across many platforms and merchants.
Dhani One Freedom card is yet another Buy Now Pay Later scheme. However, there is a major difference. While other BNPL programs are free, Dhani One Freedom Card is a subscription-based product. The monthly subscription fee depends on your credit limit.
Let's find out more about the Dhani OneFreedom card.
Salient Features of Dhani OneFreedom Card
Buy Now Pay Later (BNPL) scheme.
Subscription based product. You must pay a monthly subscription fee. In a way, the interest is disguised as a subscription fee.
Credit limit up to Rs 5 lacs at 0% percent.
You can pay for the purchase in 3 equal installments. The first installment is due the very next day of purchase. The second and third installments are due after 30 and 60 days respectively.
You do not have to pay interest provided you make the payments on time. If you miss payments, you must pay 2% monthly interest.
You get a Rupay card that you can swipe at physical stores too.
Free online doctor consultations and up to 35%-50% discount on medicines.
2% cashback for transactions on Dhani app. Maximum cashback of Rs 100 per month.
What Are the Issues?
#1 Of the three installments, the first installment is due the very next day. Therefore, you are essentially getting credit for only 2/3rd of the purchase amount. And you must pay this amount in 2 monthly installments (since the first installment is due the next day). In my opinion, this is a prudent move on the lender's part. This way, you are forced to put some money down for the purchase. This brings in credit discipline in the borrower.
#2 You can use only 10% of the credit limit each day. Thus, if you have a credit limit of Rs 2 lacs, you cannot spend more than Rs 20,000 per day on the card. Now, this restriction has not been clearly specified on the card. I found out about this restriction from this article in The Ken.
And there is a subscription fee that complicates matters. We discuss this in the next section.
#3 Subscription Fee. I dislike the lack of transparency.
I tried to find out the subscription fee for OneFreedom card on IndiaBulls (Dhani) website. Could not find the exact numbers. All I found in the FAQs was "Dhani OneFreedom subscription fee is a nominal monthly fee charged against credit at 0% interest. The subscription fee of Dhani OneFreedom card with credit starts from ₹199". Perhaps, these details are available only when you try to apply.
I reproduce this chart from the Ken article that credits this information to the Dhani OneFreedom card FAQ. I couldn't find such information on the Dhani website. As I understand, these charges are inclusive of GST.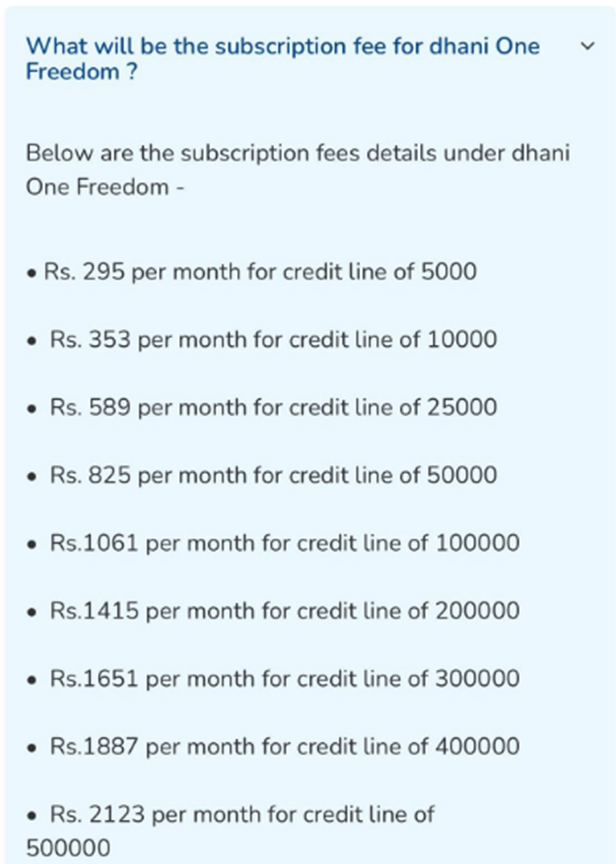 The charges seem atrocious. While you do not have to pay any interest, you must still pay a subscription fee. Consider the credit line of Rs 25,000. The monthly fee is Rs 589. That's a payment of 2.36% per month. Or an APR (Annual percentage rate) of 28.3% p.a. A personal loan is cheaper.
APR goes up with decrease in credit limit and goes down with decrease in credit limit.
For instance, a credit limit of Rs 10,000 requires monthly subscription payment of Rs 353 per month. That's 3.53% per month or 42% p.a.
For Rs 5 lacs credit limit, subscription fee of Rs 2,123 per month translates to an APR of 5.1%.
Does that mean you are OK if you go with a big credit limit?
No, you are NOT. There is a big caveat here.
The subscription fee is irrespective of your limit utilization. You must pay the subscription fee even if you do not use the card to make any purchases.
Let's say you have taken the credit limit of Rs 5 lacs but you have used the card for making a purchase of only Rs 1 lac. Despite this low utilization, you must pay Rs 2,123 per month as subscription fee. The cost of credit shoots up to 2.12% per month (APR of 25.5%).
You must also view these charges in the context that your daily usage is capped at 10% of your credit limit. Hence, to fully utilize the credit limit of Rs 5 lacs, you will have to make at least 10 purchases of 50K each. Complicated, isn't it?
In a way, it is a smart move from the lender. By making the credit utilization difficult and de-linking the subscription fee from the utilization amount, they can keep the credit utilization low and the constant subscription fee will translate to higher interest (disguised) income. Not so good for you (the borrower).
In case of credit cards or other BNPL products, you pay high interest only on the utilized amount (and that too when you skip the payments). The way Dhani OneFreedom card works, you pay high charges whether you use the card or not. Note that if you miss payments on Dhani OneFreedom card, you need to pay 2% monthly interest on monthly payments. This is over and above the subscription fee.
I won't be keen on such a product.
I have not considered the free doctor consultations and medicine discounts while evaluating the offering since not everyone will use these features. Additionally, you can buy these services separately (without Dhani OneFreedom card) on the Dhani app.
Various Ways of Levying Interest
You can't run a lending business without charging any interest. While the customer/borrower may get the impression that the lender is not charging any interest, the lender must earn interest on credit offered. And there are only a few overt and covert (disguised) ways of earning compensation for the money lent.
Charge interest on the money lent (this is the simplest way and the customer knows that he/she is paying interest). You can expect wider acceptability of such products. Personal loans and overdraft facilities fall in this category.
Get the retailer/brand/merchant to offer an upfront discount. No-cost EMI is a classic example. The brand/merchant offers the upfront discount to the buyer/borrower. Hence, while you pay the No-cost EMI on Rs 50,000, the lender has lent you only Rs 48,000 (after the upfront discount from the brand). The difference amount is the interest you pay to the lender. Most BNPL schemes work in this manner. Clearly, this can happen only with the participating brands/merchants that are willing to offer discounts. Limited acceptability.
Charge a subscription fee/processing fee/transaction commission etc. that makes up for the zero-interest loan. Again, you can expect wider acceptability. Credit cards (transaction commission) and Dhani OneFreedom card (subscription fee) fall here.
A mix of the above modes.
Disclosure: I have not used the Dhani OneFreedom card. I have relied on information available on Dhani website and other online resources while writing this article.
Additional Reading: Terms and conditions of Dhani One Freedom Card