Cost of higher education has been rising sharply even for the colleges in India. The fee for many programs has gone up by up to 5 times in the past decade.  The fee for the top business schools ranges anywhere from Rs 15 lacs to Rs 25 lacs. And this is only for colleges in India. If you plan to study abroad, be prepared to shell out more.
Therefore, for many of us, it may not be possible to finance such education from own pocket. It is in such cases where education loans play an important role. Banks or Non-Banking Finance Companies (NBFCs) such as Credila and Avanse offer education loans to help borrowers finance education.  The good part is that the repayment begins only a few months after completion of education. So, once you complete the course, you can repay the loan from salary from your new job.
Interest payment on education loan is allowed as deduction under Section 80E of the Income Tax Act. The deduction is available for 8 years since the time you start repaying such loan. Hence, the effective cost of loan comes down.
In this post, I shall focus on some common questions you might have while applying for education loan.
How Do Banks or NBFCs Assess Education Loan Application?
It is no different from the way they assess any other loan application. Lenders want to ensure that they would get their money back. Hence, a lot depends on the college and the course that you are opting for. If the lender feels that you will find it difficult to find a job and service the loan after you finish education, then they will not take a positive view of your application. In that case, they may insist on a co-borrower, guarantor or high quality collateral (house, flat, fixed deposits etc). It may be easier to find a job if you are going for a professional course such as MBA or engineering rather than a course in history or arts. If you have been a good student in the past or have prior work experience or have commanded good salary even before applying for this course, it will give a lot of comfort to the lender.
Loan sanction depends on multiple parameters including but not limited to:
Academic Background of the student
Type of course and the college applied for
Placement record of the college
Co-borrower and guarantor
Credit history of co-applicants
Value and type of collateral offered — Gives lender a cushion in case the borrower finds it difficult to service the loan
Prior work experience of the applicant
The lender may also ask the borrower to purchase life insurance and get the plan assigned to safeguard its interest in case of untimely death of the borrower.
Points to Note
Banks may not finance the entire amount especially if you are not going to a reputed college. Therefore, you might still have to arrange some money upfront. A few NBFCs such as Credila claims to offer 100% finance.
Do check if the college or the university has tied-up with any banks and NBFCs for education loans. In such cases, the sanction process may be much quicker and you may get better rates too.
Do explore the option of scholarship. This will reduce your loan amount. You can talk to the college or university to find out more about this.
Understand terms and conditions of the loan. Know when the loan repayment is set to begin.
What Are Documents Required for Loan Application?
This will vary across lenders. Here is a tentative list:
KYC documents
Past Academic Track Record (mark sheets etc.)
Letter of Admission
Schedule of Expenses
Proof of Income for all co-applicants and Guarantor (Form 16 etc.)
Income Tax Returns for past 2-3 years for all co-applicants and Guarantor
Bank Account statements for all co-applicants
Do obtain the checklist of documents from your preferred lenders and collect the documents accordingly.
What Expenses Are Covered?
This aspect will vary across banks. These loans will typically cover tuition, hostel, library and examination fees. Purchase of books and equipment will also be covered. Some loans may also cover expenses on exchange programs and purchase of laptops. Check the expenses covered before you finalize the loan.
I Won't Be Able to Make Any Repayment While I Am Studying
Since the applicant is taking an education loan, banks can't really expect him/her to repay the loan during the course of studies. Therefore, typically, all education loans offer a moratorium period during which the borrower need not pay anything to bank. Typically, the repayment starts 6 months after the scheduled completion of the course.
However, that does not mean the lender forgoes the interest during the period. The interest amount gets accrued before the repayment period and gets added to the principal amount. For instance, if you take an education loan of Rs 10 lacs at 10% p.a. with moratorium period of 2 years, you will have outstanding principal of Rs 12.1 lacs when repayment begins.
Some lenders may use different terminology where they have course period (duration of the course say 2 years) and moratorium period (time between when course ends and the repayment begins).
Under some loan schemes, you may get an option to repay full EMI or at least the interest portion during the course of your study. Essentially, you get an option to not avail any moratorium period. In case you have a source of income (interest, dividend or rental income) even during your course period or your family can make the repayment during the course period, you can opt for loan without moratorium.
What Are the Interest Rates on Offer?
This will vary across banks. The interesting part is interest rate offered will depend on the kind of college you are going to, loan amount, gender, collateral, work experience etc. So, essentially everything that the bank uses during your loan application appraisal plays a part.
Let's consider education loan schemes from State Bank of India. SBI has two schemes for education loans.
SBI Student Loan Scheme
Details about the loan scheme can be found on State Bank of India website. The interest rate under this scheme varies 1.7% to 2% over the base rate. There is even concession of 0.5% for girl students.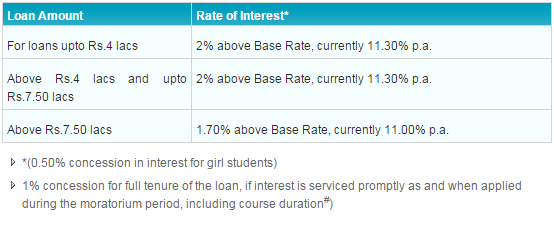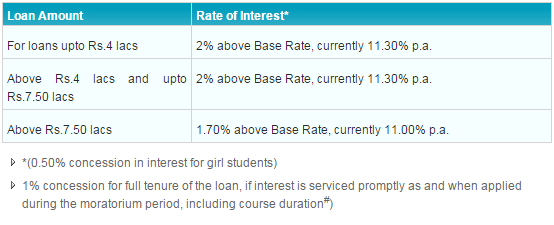 SBI Student Scholar Scheme
This scheme is for borrowers who have selected in premier education institutes such as IITs, IIMS, NITs, AIIMS etc. The interest rate under this scheme varies 0.4% to 0.65% over the base rate. More details about the plan can be downloaded from SBI website.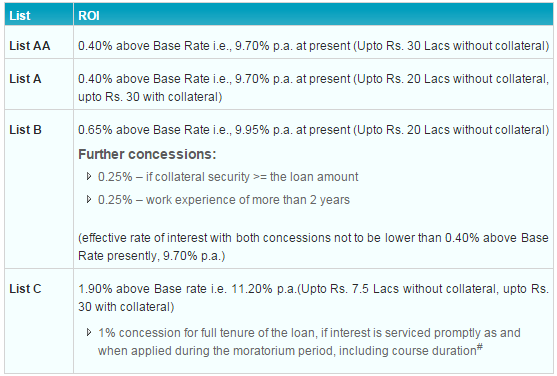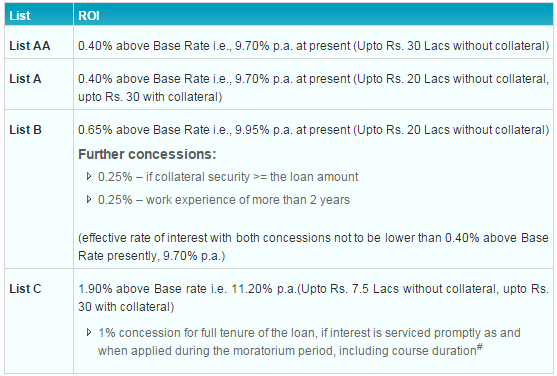 You can see how everything including college, collateral and work experience has an impact on the loan interest rate.
I have tried to answer very basic queries. You may have many more queries. Education loan applications can be really heterogeneous. Lenders may hold positive view of College A and not College B. Lenders may be comfortable with course X and not Course Y.  With the number of potential colleges and courses, you can do the permutations and combinations. You may have to meet the bank manager to convince him of your repayment ability.
Hence, do a bit of research online before applying. Find out the loan eligibility details from a particular lender. Download document checklist and start collecting the documents.  Only after that, apply for the education loan.