We hear about co-branded credit cards quite often. The banks have launched credit cards in tie-ups with retailers (Big Bazaar), e-tailers (Amazon and Flipkart) and airlines/cab/travel booking companies (Vistara, Ola, IRCTC). Zomato has a co-branded credit card with RBL bank. And I am sure there are many such co-branded products.
The USP is: If you use the card for a specific purpose or on the brand's store/app/website, you get special benefits such as discounts, cashbacks, air miles, higher rewards etc. Depending on your usage and expense, you might find merit in these cards. I have written about Amazon Pay ICICI Bank credit card and Flipkart Axis Bank Credit card and found merit in owning these cards if you shop on these platforms.
Benefits to borrowers, banks and the brands. And this trend is likely to continue. You can expect bigger platforms to continue to tie-up with banks to launch co-branded credit cards.
When Do Co-Branded Credit Cards Stop Making Sense?
Well, it will still make sense for the brand. But does not make sense for the applicant/borrower.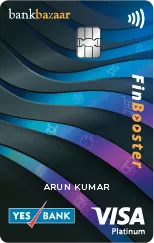 I came across FinBooster, a co-branded credit card by Yes Bank and Bank Bazaar. I am at a loss to understand how a co-branded credit card by a company that sells credit cards and loans will benefit borrowers. Will you get lower interest rates for your future loans because you own this card? I don't think so.
By the way, BankBazaar is doing an incredible job, connecting potential borrowers to lenders. It is an excellent place to quickly find the latest information about loan interest rates and various other credit products. Somehow, I see no value proposition for the borrower in this co-branded credit card.
Let's first review the benefits of this card and see if there is anything special.
Lifetime free card: No joining fee. No annual fee.
No cap on rewards. No expiry of reward points.
Accelerated rewards: 10 points for every Rs 200 on online dining. 6 points for every Rs 200 spent on online grocery and online apparel shopping. 2 points for every Rs 200 on all other spends (except fuel)
1% fuel surcharge waiver if the transaction amount is between Rs 400 and Rs 500.
First year free subscription to CreditStrong app. From the second year, the subscription fee shall be Rs 400, which shall be waived if you spend more than Rs 1 lac in aggregate on the card during the previous year. CreditStrong offers real time dashboard to track expenses and monitor credit score. Not sure how this helps.
Accidental Death Cover of Rs 2.5 lacs for the primary card holder. Useful but this alone can't be the reason for applying for this credit card.  Accidental death covers are quite cheap.
Eligibility: Age between 21 and 60 years. Minimum salary of Rs 25,000 per month or Income tax return of Rs 5 lacs and above.
The usual mumbo-jumbo. All credit cards have such features. And there is nothing that you can buy on BankBazaar.
Higher rewards are fine but the problem with reward points is that it is a currency whose value the bank decides. Today, you can buy a Rs 500 Myntra voucher for 2000 points. After a month, the same voucher will cost 2,500 reward points. And this happens with most credit cards. How much is a reward point worth? How can you use it? This was one of the reasons I found merit in Amazon Pay ICICI Bank and Flipkart Axis Bank Credit cards. The rewards system was very crisp and easy to understand.
By the way, this is not the only co-branded credit card that has limited appeal. Axis Bank has launched Axis Bank Freecharge credit card in partnership with Freecharge. However, there is no mention of any benefits linked to using this card on the Freecharge app. The only linkage is that this card is available instantly on the Freecharge app to eligible customers. Eligibility criterion is not specified on the website. And I am sure there are many such co-branded credit cards with no brand benefits.
Should You Go for It?
To be fair to the banks and the brands, there is nothing wrong with these credit cards per se. These cards provide the basic functionality of a credit card. You get the interest-free credit for a few weeks. If you don't pay back on time, you suffer. Fair and square. In that sense, it is a regular credit card.
Just that I do not see any merit in the co-branding. Or any merit in opting for these cards because these are co-branded credit cards.
If you don't own a credit card, are looking for one and happen to stumble upon these cards, go ahead. However, be aware that these co-branded credit cards won't offer you any special benefits.