For many of us, achieving our dream of owning a car may require some financial assistance in the form of a car loan. And when it comes to loans, no other bank evokes as much trust as the State Bank of India. In this post, we will look at various car loan products from SBI. We will consider three broad loan categories of car loan products from SBI stable.
Loan product for purchase of new car
Loan product for purchase of a pre-owned or a second hand car
Loan product for existing home loan borrowers of SBI for purchase of either a new car or a pre-owned car
On the SBI website, other car loan products are featured as well. However, as I understand, these are minor variations of the aforesaid three products.
SBI New Car Loan (for Purchase of New Car)
Loan available for purchase of new passenger car, Multi-utility vehicles (MUV) and Sports Utility Vehicle (SUV).
Repayment tenure of up to 7 years. Therefore, EMI can be lower. However, do remember longer tenure also means higher interest outgo in absolute terms.
Financial for "On-road price". On-road price includes registration charges, insurance cost, accessories, extended warranty contract, maintenance contracts. These costs can easily be 30-35% of your ex-showroom price. You can get loan for up to 90% of the on-road price.
No prepayment penalty.
Processing fee: Rs 1,000 for loans up to Rs 6 lacs, Rs 1,500 for loans above Rs 6 lacs. GST shall be levied on such charges.
If you have recently purchased a car out of your own funds, then the bank can refund your outgo within the maximum loan limits. Suppose you purchase a car for Rs 5 lacs from own funds.  Now, you want some liquidity. In that case, you can approach SBI for a car loan of say Rs 3 lacs. SBI will give you a loan of Rs 3 lacs on the same car and you can use the funds as you like. The only restriction is that your car should not be more than 3 months old.
Interest Rate: 9.20% to 9.70%. Subject to change. You can check the latest interest rates on this page.
Who Is Eligible?
Age must be between 21 and 65 years
Additionally, you must belong to either of these 3 categories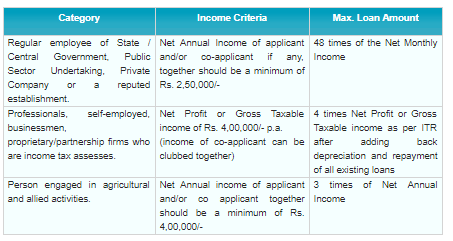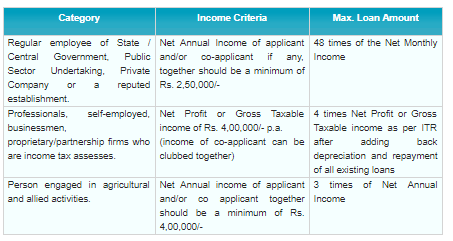 As expected, the eligibility norms are quite relaxed if you are a Government employee or a salaried employee with PSU and select corporates. For more about this loan scheme, you can visit the product page on SBI website.
SBI Certified Pre-Owned Car Loan Scheme (for Purchase of Pre-Owned Cars)
The loan facility can be used to purchase cars not more than 5 years old.
The car must be purchased from a certified pre-owned car dealer such as Maruti True Value and Mahindra First Choice.
Category of applicants is same as SBI New car loan.
Net annual income of the applicant/co-applicant shall be at least Rs 2 lacs.
Maximum loan amount: Capped at 2.5 times annual income
In addition, the applicant must bear at least 20% of the invoice value or Insured Declared Value (IDV), whichever is lower, from own funds.
Repayment Tenure: 8 years – age of the car. This is subject to a maximum of 5 years. i.e., if the car under consideration is 4 years old, the loan must be repaid within 4 years (8-4).
Processing fee: 0.5% of the loan amount subject to a minimum of Rs 450 and a maximum of Rs. 9,100. GST shall be levied on these charges. For the latest on quantum of fees for car loan products, refer to this page on SBI website.
Interest rate: 1 year MCLR + 4.65% = 12.90% p.a. For the latest interest rate, please refer to the interest rate page on SBI website.
As expected, the interest rate for the pre-owned car loan is quite high as compared to new car loan.
For more on SBI pre-owned car loans, refer to the product page on SBI website.
SBI Loyalty Car Loan Scheme (for Existing Home Loan Borrowers of SBI)
Only existing SBI home loan borrowers are eligible.
Can be used for purchase of both new and pre-owned cars.
Applicant age between 21 and 65.
Financing up to 100% of on-road price.
Maximum loan amount: Minimum of (75% of market value of house – outstanding home loan amount,  on-road price of the vehicle)
Category of eligible applicants is same as for SBI New Car Loan Scheme. Net annual income for the applicant and/or co-applicant shall be at least Rs 2 lacs. This is a sharp relaxation as compared to SBI New Car loan scheme.
Mortgage on the house shall be extended to cover car loan too. Clearly, this condition has a major role to play in relaxation of eligibility conditions. The State Bank gets your house as security for the car loan.
I do not see much difference in interest rates, at least for a new car loan. However, for a pre-owned or a second hand car, the interest rates are far better than the base product.
As I understand, this is not a separate loan product. You can apply for any of the existing car loan products from SBI under this loyalty program. As you can see below, you can apply for different car loan products under the loyalty car loan scheme. The eligibility norms will be relaxed since your house acts as the security for the car loan. Your house, unlike your car, is not a depreciating asset.


There are other car loan products too from SBI. For instance, there is SBI NRI Car loan scheme, which is available to only NRIs but requires a resident close relative as guarantor. The difference from new car loan scheme is primarily in terms of eligibility. SBI NRI Car loan scheme has strict criteria about applicant banking relationship. For more on SBI NRI Car loan scheme, refer to the product page on SBI website.
Please understand, for all the loan products mentioned above, your ability to repay EMI shall also be considered while assessing your loan eligibility. SBI may have different EMI/NMI criteria for each of its car loan products. Such criteria is not explicitly disclosed on the website except for NRI loan scheme.