Amazon has launched Amazon Pay Later facility. As the name suggests, you can use the facility to buy now and pay later on Amazon. In this post, let's find out how this facility works and how you can register for the facility.
How Does Amazon Pay Later Work?
Amazon is an e-commerce company and cannot extend credit to its customers. The credit facility is extended by its partner, CapFloat Financial Services Private Limited, a non-banking financial company. You can use this facility to pay the entire purchase amount next month at no extra cost or pay in 3 to 12 EMIs. With EMIs, you will have to bear interest cost.
You might say you already have this option with your credit card. You get no-interest credit period for up to 45 days. You also get an option to purchase on EMIs. Yes, that's right. If you already own a credit card, I see little benefit in this facility unless Amazon offers exclusive deals or the facility is offered at a low rate of interest.
The interesting point is that you do not need a credit card to use this facility. Not all of us may own a credit card and might still want to purchase on instalments. For such buyers, this facility can be useful.
How to Register for Amazon Pay Later?
Amazon gives you an option to register for the facility on the Checkout page. There can be options to register using the mobile app.
The registration is a 3 step-process.
KYC

Accept terms and Conditions

Set up Auto-repayment
If you have finished KYC for Amazon Pay Balance, you can select the option and move forward. Alternatively, you must do Aadhaar based OTP verification to complete KYC.  There are plans to schedule doorstep visit to complete KYC but the feature has not yet been enabled. Note that  physical KYC will take some time and you won't be able to make an instant purchase. 
You also need to share your PAN. Capital Float will use this to fetch your credit history and make an instant lending decision.
You also need to provide an address proof. The accepted documents are Aadhaar, Voter id card, Driving license and utility bills (not over 60 days old) It is possible that Capital Float may insist for an address proof that is same as delivery address.
Thereafter, you will be shown your credit limit and asked to accept terms and conditions.
Finally, you need to set up Auto-repayment from your bank account. Capital Float has a list of banks and you must have an account with one of the banks.  You can set up auto-repayment using net banking or debit card. For the purchases made till the 15th of a month, your bank account will be auto-deducted for EMIs on the 5th of the next month. The billing cycle shall be 16th of a particular month to the 15th of the next month.
If your bank account does not have enough money on the date of auto-debit, you will be charged a penalty for delay in payment. DPD is Days Past Due. Note this penalty is over and above the penalty your bank will charge you for ECS bounce.
How Much Interest Do I Pay?
If you agree to pay the entire amount next month (Buy now, pay next month), you do not have to pay any interest. On the other hand, if you choose to repay the loan in 3, 6, 9 or 12 EMIs, you will have to bear interest cost. The rate of interest will be communicated on the payments page. During the offer periods, Amazon may offer No-cost EMI under this payment method too.
Points to Note
The facility is extended to only select Amazon customers. As I understand, Capital Float will decide based on your credit history whether to extend this facility to you or not.

You can use this facility to purchase just one eligible item at a time. The facility cannot be used to purchase multiple items (including multiple eligible items) in the cart.

You must be 23 years or above to use this facility.

You can't use this facility for partial payment for the purchase.

You do not need a credit card to register for this facility.

As per RBI regulations, any financial institution can lend only up to Rs 60,000 per year to a person who finished KYC through Aadhaar-OTP based process.

This is the cumulative amount and not a single purchase limit. Thus, your cumulative purchases during a financial year under this facility can't exceed Rs 60,000.  Even returned or cancelled items are counted towards the limit. For instance, you purchase an item costing Rs 10,000 and thereafter returned it. Despite the return of item, the purchase amount will be counted towards Utilized limit and you can use the facility for another Rs 50,000 only.

If you want a bigger credit limit (> Rs. 60,000 per year), you must do physical KYC with Capital Float.

There is no processing fee levied and no down-payment is required.

There are minimum and maximum transaction limits under the facility, depending upon your repayment tenure.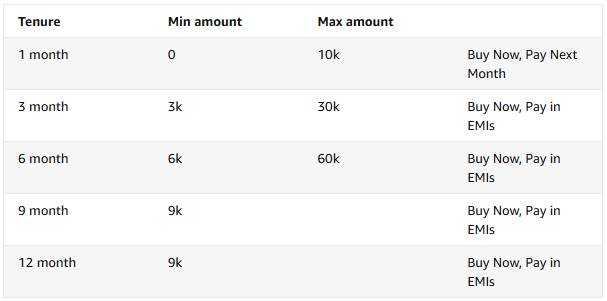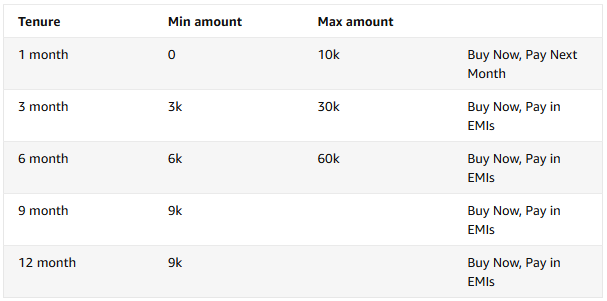 Reference