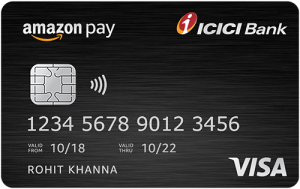 Do you shop on Amazon? If you do, you must have noticed this banner about Amazon Pay ICICI Bank Credit Card that keeps coming up? Or you must have noticed this card always comes in various payment offers on Amazon. Has this ever intrigued you? What is this card about? What are the benefits this card offers? Is it worth applying for? Let's find out.
Amazon Pay ICICI Bank Credit Card is a co-branded credit card. Given the nature of such co-branded cards, you expect better benefits if you use the credit card to make purchases on Amazon app or website. And that's exactly the case.
Simplicity Is a Virtue
I have always been confounded by 2X, 5X or 10X reward point offers from credit card issuing banks. Because there is no way to relate to the eventual benefits. I don't understand what 2X, 5X or 10X reward points translate to. I am sure the following questions have crossed your mind too. What is the monetary value of a reward point? Who decides that value? What are the pre-conditions to utilize those reward points? Can these reward points just be used to purchase items from the catalogue? What if I don't like or need the items from the catalogue? Why do these reward points expire? There are options to use reward points to book air tickets, stay at partner hotels, buy shopping vouchers and even convert the points to cash. But everything is so vague. I am not sure if there are people who track how many credit card reward points they have accumulated.
With Amazon Pay ICICI Bank credit card, it is as simple as it gets.
1 Reward point = Re 1
And at the end of each month, the reward points get added to your Amazon Pay Balance account. If you earned 100 reward points, Rs 100 will be added to your Amazon Pay Balance on the date of credit card statement. You can use the credit card for any bill payment or to make any purchase on Amazon. Simple.
No nonsense about first accumulating reward points and use those reward points to purchase items from catalogue (you may not even need those items) or converting those points to cash (statement credit) at a whimsical conversion ratio. Re 1 = 3 reward points or 4 or 10 reward points.
There is no requirement to have a minimum number of reward points before you encash. Actually, no such concept of accumulating reward points. Everything gets paid out as credit to Amazon Pay Balance at the end of the month.
Amazon Pay ICICI Bank Credit Card: How Do You Earn Reward Points?
If you are a Prime member, you get 5% reward points for each purchase on Amazon. So, if you make a purchase of Rs 2,000 on Amazon, you will earn 100 reward points. And we know 100 reward points = Rs 100. Rs 100 will be credit to Amazon Pay Balance on the next statement date.
If you are not a Prime member, you get 3% reward points on each purchase.
You get 2% reward points for bill payments, travel bookings, Kindle, loading Amazon Pay Balance, movies etc. on Amazon.
You get 2% reward points on using the card on Amazon Pay partner merchants (you must make the payment through Amazon Pay).
You get 1% reward points for all other payment (except for fuel).
No points for gold purchase or EMI purchases on Amazon. So, if you have bought an item on Amazon on EMIs (No Cost EMI or interest based), you will not get any reward points for that purchase.
I am sure there must be a few exceptions in the fine print but I like the transparency.
No Cost EMI Offers Available throughout the Year
If you find merit in No cost EMI schemes, Amazon offers No-cost EMIs on this card throughout the year for purchases above Rs 3,000. No cost EMI offers are available on other credit cards too but not throughout the year.
You Don't Choose Credit Cards Just for Reward Points or Cashbacks
You choose a particular credit card because it provides benefits for the expenses that you incur. And not everyone has the same expense pattern.
If you dine out regularly, you might prefer cards that offer discounts at the restaurants you like. If you shop regularly with say Big Bazaar, you might prefer credit/debit cards where Big Bazaar offers better cashbacks or discounts. Since these are based on arrangements between the merchant and the bank, such arrangements will be heavily advertised in merchant stores. If you shop regularly on a particular website/app, you might prefer a credit card on which the website frequently offers discounts.
Amazon Pay ICICI Bank Credit Card is a co-branded credit card that offers benefits for shopping on Amazon. Flipkart has a similar tie-up with Axis Bank, where it provides unlimited 5% cashback on Flipkart Axis Bank credit card.
Sometimes, you can keep/use cards just for their service or their prestige value. American Express is such an example.
Hence, if you shop frequently on Amazon, you might find the Amazon Pay ICICI Bank credit card useful.
How to Apply?
You can apply directly from the Amazon app or website and the approval is almost instant. The virtual card is generated instantly, and you can start using it right away. The physical card will be delivered after a few days. And yes, it is a lifetime free card with no joining fee or annual charges.
The Usual Caveat
A credit card, no matter how good, is a credit card. It is the power to spend money that you don't yet have. An additional credit card is an extra opportunity to access credit. If not used responsibly, this can result in problems.
If you have 2 credit cards with a credit limit of Rs 2 lacs each, you can't spend more than 4 lacs on credit. If you get a third card with Rs 2 lacs limit, you can spend Rs 6 lacs on credit. To an irresponsible borrower, this is an additional way to mess up finances. If you have had credit problems before, you can skip this card (or any credit card for that matter).
Therefore, while the ICICI Amazon Pay credit card looks good, it must be used responsibly. A simple rewards/cashback policy does not mean you spend recklessly on Amazon. You wouldn't spend Rs 10,000 just to earn Rs 500 in cashback, would you?
Additional Reading